Deluxe and Budget Portable Buildings
Deluxe Buildings
The Deluxe Buildings Offer the Following:
These are the costs for deluxe buildings with either a metal or shingle roof and T1-11 siding or equivalent, including caulking, putty and primer. A generic price of two coats of paint, with the same color everywhere, is added but you may wish to use another type of paint and several different colors.
Plank siding may also be used. We can discuss that option depending on building size and the if the building will be moved multiple times.
These are very high quality buildings. We offer as many options as you may wish for.
Details of the Construction of a Deluxe Building
The walls are built with a bottom plate (2" x 4") and two top plates that interlock the walls together, adding a full strength wall design that can handling repeated transportation without damage. These buildings offer a sloped ceiling until a 8' high ceiling is reached.
You may also choose a flat ceiling, which requires a slightly lower ceiling. This design offers much greater strength and a more functional ceiling for adding lighting, insulation and ceiling fans.
The floors are built with 2" x 6" floor joists that are spaced 16" apart and include two extra floor joists near the ends of the building that prevent a noticeable sag when walking in that area. This design allows a much heavier load to be placed inside than conventional designs.
You may also request 2" x 8" floor joists if you will be using the building for extremely heavy objects such as weight benches with very heavy weights or extremely heavy workshop machines.
The floor is supported on two double 2" x 8" treated wood skids that allow proper transportation your site or to another site if you decide to move the building. We include 16" x 16" x 4" concrete pads to support the two skids and the exterior walls. Solid treated wood and/or solid concrete blocks are added until the building is level. We never use hollow cinder blocks. These will crack and break over time. You will end up with a very strong, stable and movable building for about the same cost that hardware chains offer lower quality buildings at.
The roof and ceiling are made with 2" x 8" or 2" x 6" rafters and 2" x 6" ceiling joists. One wall is framed to allow a normal house entrance door to be installed. These buildings include a simple in-swing or out-swing barn style door. This door is sized to fit in the opening needed above for a house entrance door. Many door and window options are available, from double barn doors, home entrance doors, French doors and sliding glass doors. The majority of the cost difference is due to the cost of the actual door chosen and if longer openings are needed for doors like French, sliding glass or double barn doors. If you believe that you will want to add extra windows or doors later, but not at this construction time, we can frame in headers and window sills for future openings that be quickly cut out later for an small extra charge. This process allows these items to be quickly and inexpensively added later.
Specialized Buildings Such as Laundries, Bathrooms Stalls and Urinals, Multiple Showers, etc.
The prices and styles will depend on the design and items needed. Please contact us to get an estimate for these special units.
---
Buildings wider than 16' or longer than 24' long need a more specialized roof and require a detailed estimate. Extra wide buildings will need to be built and moved in sections like a double wide mobile home. These buildings are not built using the low cost and inferior materials that mobile homes use. Any size length is not a problem. A 12' wide by 100' long requires some separation points in the roof system, and will also need to be moved in sections, as above.
---
Budget Buildings
The Budget Buildings Offer More Economical Variations and are Completed Faster than Deluxe Models
These are the costs for buildings with either a corrugated metal or three tab shingle roof and budget types of sheet siding. Caulking, putty, primer and paint are not included.
Floor joists are 2" x 6" and are spaced at 2' centers.
The roofs are Gambrel, also known as barn style roofs, with two angles, and can be either metal or shingle. Metal roofs use corrugated metal. Shingle roofs use 3 tab shingles and will require plywood and tar paper. All roofs require short ceiling joists.
Gabrel Roofs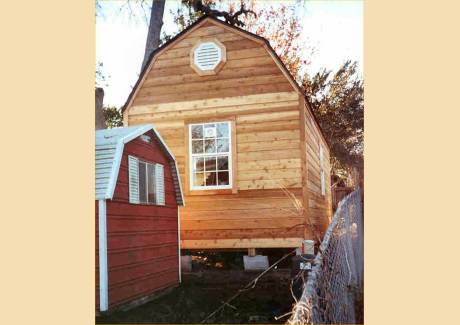 Gambrel roofs have two different angles instead of just one. Here are two different examples.

---
A barn style door is included. Either a short wall or tall wall may be chosen. Tall wall buildings need to not exceed local height standards for transportation for us to deliver it or if you will need to move it later. For the short wall option, we build 4' high walls, from the top of the wall to the floor support beams at the edges with a barn style roof. This gives a full 8' high ceiling only a few inches from the walls. This option reduces siding and wall stud costs in half. Short wall buildings can only have doors and windows added to the end walls.
For the tall wall option, walls studs are cut just enough shorter to allow the siding to cover the edges of the floor support beams. The angles of the roof are adjusted to allow a shorter height of the peak of the roof. Tall wall buildings need to not exceed local height standards for transportation for us to deliver it or if you will need to move it later. This may require cutting the wall studs slightly shorter or using a different set of angles for the roof to give a lower height for the entire building.
If this building is the be lived in, roof plywood and tar paper must be added before roofing materials. We can add that cost later depending on building size.
You may also request a roof similar to those in the deluxe version, but only for the tall wall size and with a very shallow (flatter) angle roof. The shingle version of this roof will require plywood and tar paper. The metal version of this roof will require 1" x 4" lath on top of the rafters to screw the roof metal into.
---
Example of One Type of Barn Door
Simple Barn Door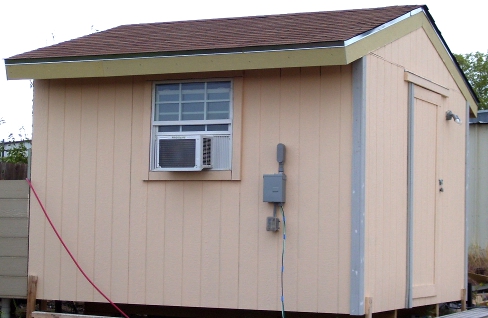 Simple barn door made from same materials as building, look at the right side of building

---
Additions to Existing Portable Buildings if You Need to Expand on Your Existing Space.
One example:
Addition to create a laundry and utility room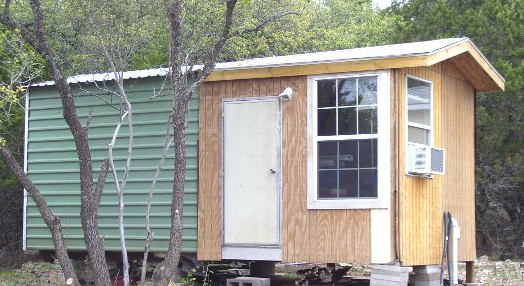 Addition to an existing 8 Ft. x 10 Ft. to create a laundry and utility room

---
Finished view of front of laundry/utility room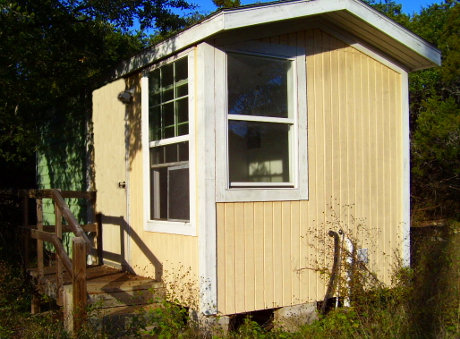 Finished view of front of laundry/utility room

---
Some of the Most Common Options
Wall Insulation
Because insulation releases dangerous fiberglass particles into the air, it needs to be covered with drywall afterwards and a simple application of drywall tape over the joint between sheets.
The walls of 4' do not require taping, since the sheet covers the entire wall without a horizontal joint between sheets.
Interior Wall Insulation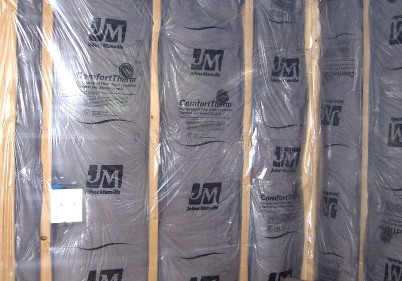 Interior Wall Insulation, Covered with Plastic Sheeting to Allow Further Work Without a Mask

---
Ceiling Insulation
This requires installing ceiling joists (if your building does not include them already) and drywall for support. Just like the joints in walls, insulation releases dangerous fiberglass particles into the air. It needs to be covered below with drywall and a simple application of drywall tape over the joint between sheets.

---
Floor Insulation
This is installed between the floor joists. A sheet of material that is humidity resistent must be used below the insulation on the bottom of the building. There are several types available.
---
Drywall
The prices include installing and screwing of sheets and a single application of tape at the joints. Further work with tape, float, texture, primer and paint prices are not included.
There are a huge number of possible options for taping qualities, types of wall texture, primer and both brands and painting styles. You will need to choose any of those options with us personally.

---
Doors
Standard and deluxe buildings include a basic barn style door. If you wish to change to a different style door, here are some possible options. Many more options are also available.
Doors that swing outwards instead of inwards save the space that the door uses when it swings inward.
This option can free up space inside that is lost with an in-swing door.

Outswing door from outside, closed





View of a closed outswing door, from outside


Outswing door from outside, opened





View of an opened outswing door, from outside
---
Other possible options include:
Electrical
Plumbing
Interior Painting
Exterior Painting for a Budget Style Building
Moulding - Crown, Base, Wood Window Sills
Flooring - Carpet, Tile, Linoleum, Wood
Galleries of more photos of a few of the many portable buildings we have built
12' by 20' Portable Guest Room / Bedroom
12' by 20' Portable Efficiency or Hunting Cabin with Kitchen, Bath and Cathedral Ceilings
Fancy Home Workshop with Attic and French Doors
Some directories with additional photos can be browsed through here
12 ft x 20 ft Guest Room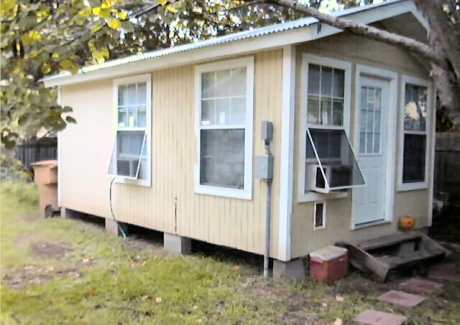 12 ft x 20 ft Guest Room

---
12 ft by 12 ft Portable Building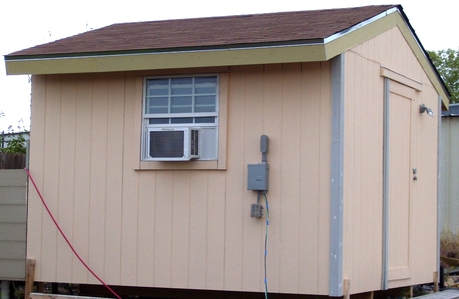 12 ft by 12 ft Portable Building

---
Home Workshop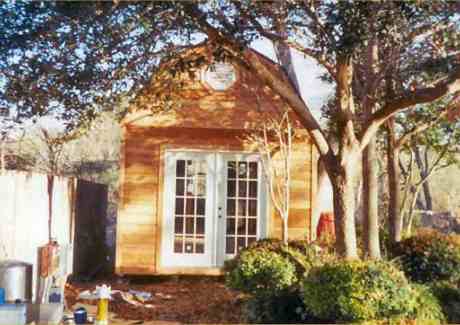 Home Workshop

---
12 ft x 20 ft with Water Heater Closet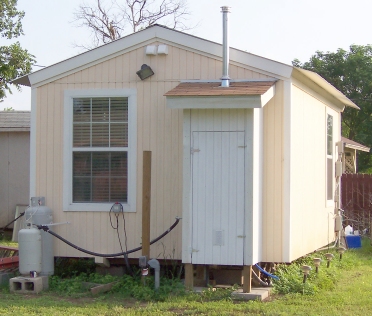 12 ft x 20 ft with Water Heater Closet

---
Inside of an Office in a 8 Ft. by 10 Ft. Building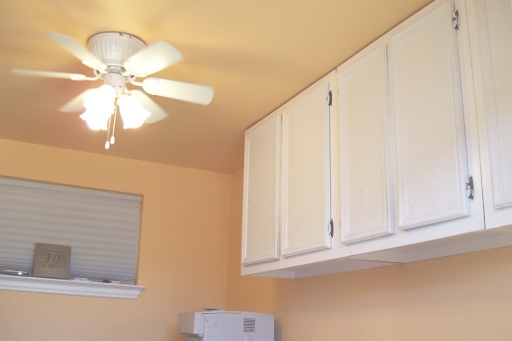 Inside of an Office in a 8 Ft. by 10 Ft. Building

---
Addition to portable building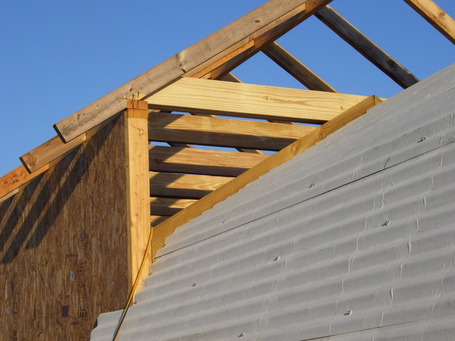 Addition to portable building

---


Last Updated: December 6, 2022