Decks
Decks can be constructed from a variety of materials.
Cedar - Excellent and beautiful appearance. Good lifetime but not a strong as treated wood. Should not be used for structural sections.
Treated Wood - Least expensive choice, looks good and is both strong and rot resistant. Must be used for any structural sections, due to its strength.
Composite Materials - Looks excellent, better weathering than woods and does not rot. However, scuffing can sometimes be a problem. There are reports of extreme mold problems. Composites are significantly more expensive than wood options. We cannot recommend these products.
Posts
Posts should be made from pressure treated wood. This is the strongest choice and is long lasting.
Posts can be of cedar, but we recommend a faux cedar look. This consists of a treated wood post covered with cedar materials. This gives the look of cedar, but keeps the strength of treated wood.
Posts for composite decks must be treated wood covered as above, but with composite sheath for matching look.
Structural Members
One surprise to many customers is the fact that all of the structural portions, which are the portions of the deck underneath and underneath the treads treads of any stairs, must be made from pressure treated wood.

The top planks and railings can be of any material, but the support materials such as the beams and joists cannot be of cedar or composite materials.
Cedar or composite planks and railings have a very long life. These can be replaced whenever a piece has a problem. Ultimately, the full life of a deck is determined by the life of the treated wood support structure underneath. Deck legs and blocks can be replaced or adjusted at any time.
The outside of these treated beams can be covered with cedar trim to hide it, so that it all looks like cedar.
Railings and Stairs
Deck railings and stairs are required to meet certain codes, such as the size of the openings between the balusters and the stair treads and handrail bottom. The main purpose of these requirements are to prevent serious injuries to small children who can get their heads trapped if the width is wrong. These railings should have enough strength to withstand a pulling force in the middle of each section. Handrails must be of a certain height and are required for any deck above a certain height.
Deck stairs and handrails have no restrictions on looking good. They can be of cedar, treated wood, composites, metal, glass or any combination of those. Strength still matters, so composite handrails use a treated wood post covered with a composite sleeve to match the rest of the handrail. Treated wood stair stringers are necessary but cedar planks on top are fine. A cedar trim can be put on the outside to hide the treated material behind it.
The most common balusters are 1 1/2" cedar or treated wood with either a square end or with an agled miter cut.
Another sturdy option is to use 2" x 4" balusters. This has a different appearance than the thin balusters. This method will probably have a longer life than the thin balusters since more than one faster can be used. These are available in both treated and cedar wood.
Staining and Sealing a New Deck or an Existing Deck
Sealing a deck shortly after construction will keep the deck looking good for much longer. Decks can be clear sealed or sealed with a colored stain.
Cedar decks can be sealed right away. Pressure treated decks should dry out for a few days before sealing since pressure treated wood arrives from the lumber yard "wet".
There are many stain colors to choose from. You can choose between transparent, semi-transparent and opaque. Opaque stains basically look like paint. You may want to buy a gallon and actually try it in a corner to see if you really like it or not. Once the deck is stained you cannot undo it!
Existing decks can also be rejuvenated by thoroughly pressure washing first.
Dark and mildewed looking decks can be restored to an almost new look with a pressure washing followed by a sealer and stain.
If you are short on cash and the family is going to be visiting, you can just have the deck pressure washed for a quick improvement.
Decks should always be pressure washed immediately before sealing or staining.
Images of some Decks.
---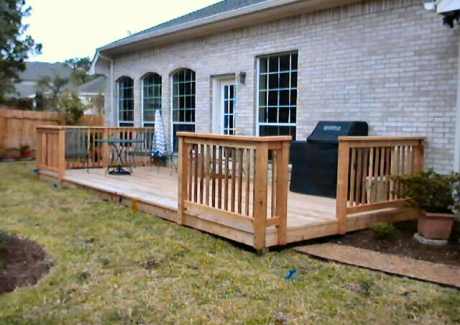 Cedar Deck with Railing
(Follow link to see more photos of this project.)
This deck is shown unstained. It is preferable to wait a week or two before staining a new deck to allow the wood to dry out. New wood is often slightly damp and poorly compatible with oil-based stains and sealers.
We highly recommend using oil-based products. They are easier to apply and always produce good results.
We have heard several bad reports from customers that have used water-based stains themselves and have also found these products are very difficult to apply without making a big mess from our own experience.
---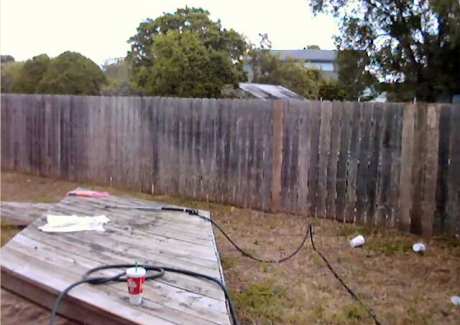 Cleaning, Staining, and Sealing a Fence and Deck
(Follow link to see more photos of this project.)
This shows very weathered deck before cleaning.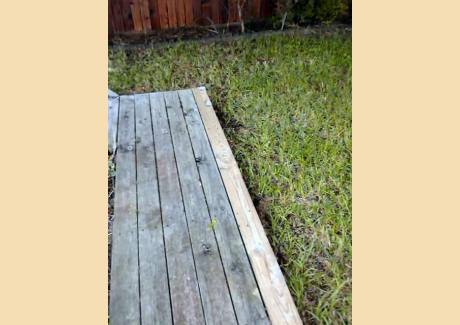 This shows weathered deck before cleaning and one plank after cleaning but before staining/sealing.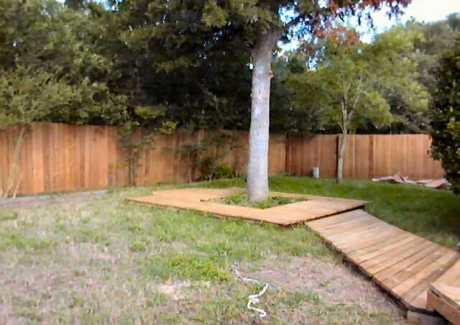 This shows rejuvenated deck after cleaning and applying sealing stain.
Not new, but much better looking!
---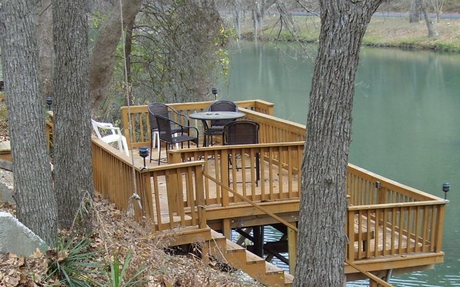 Two Level Decks
This shows one two level deck.

---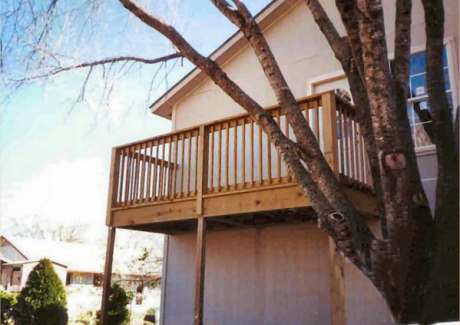 Two Second-Story Decks
(Follow link to see more photos of this project.)
This shows one second-story deck.
Both decks are only accessed from inside of home.
This shows other second-story deck.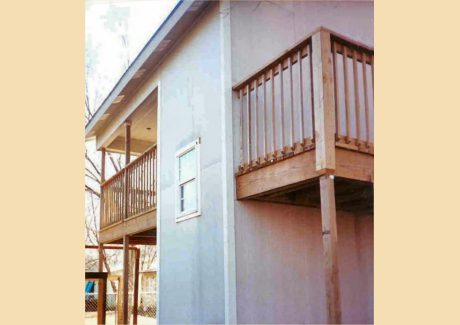 This shows both decks.
---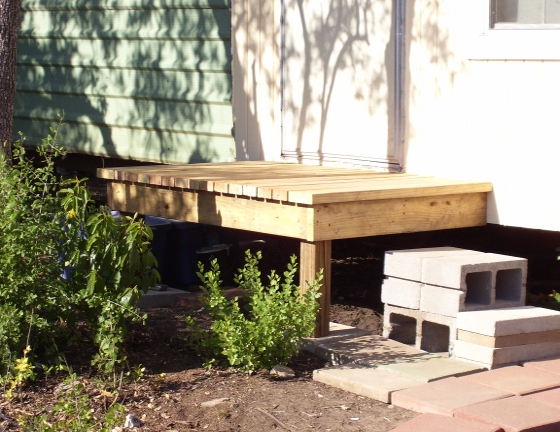 Not all decks need to be large or exotic.
This deck serves as a platform to allow easy and safe access to this building.
---


Last Updated: December 6, 2022