The WallsExterior Side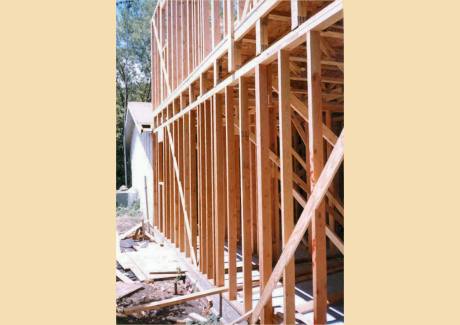 First and second story behind existing house. The wood that runs diagonally on the outside is called let-in or wind bracing. Without this the house would sway in the wind and eventually fall down. There are also other ways to accomplish this

---
Stairwell from Outside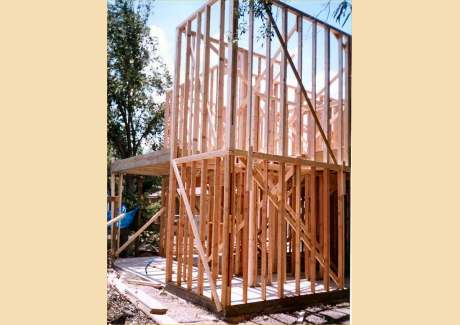 The stairs go inside here later. The diagonal braces shown arenot permanent wind bracing but temporary braces(except for one up top right). The walls are too short lengthwise for let-in or other types of diagonal bracing. So we will put on full sheets of plywood under the siding to brace

---
StairwellView from Bottom Inside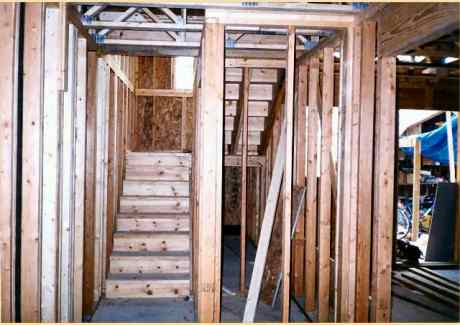 ---
StairwellView from Top Inside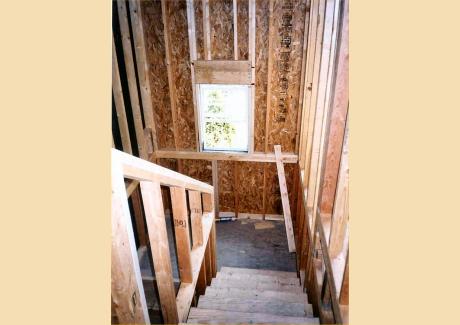 ---
The WallsOther Exterior Side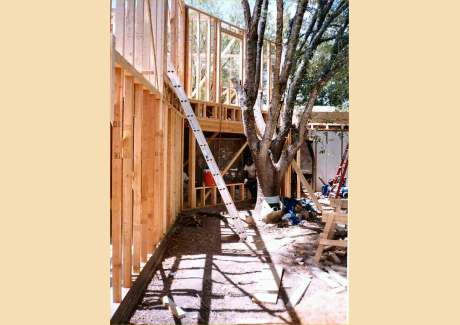 Notice that this home has an exterior 45 degree angle wall. This complicates the construction of the roof raising cost. But the results weretruly beautiful back yard. Unfortunately there was not any angle that would allow photos to show it

---
Side Deck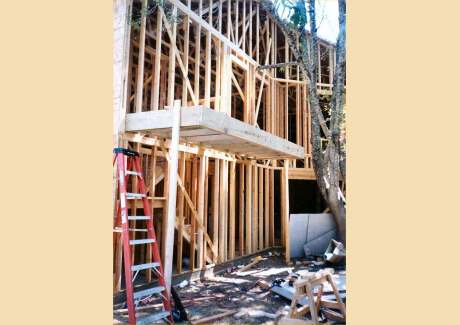 This deck is shared, the door exits fromcommon area. Note the two wind braces in the long wall. You can also (barely) see the plywood bracing on the top left outside.

---
Side DeckAnother View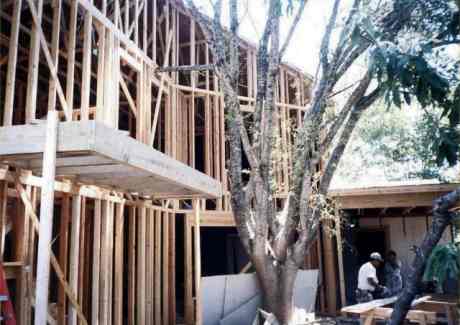 ---
Back Walls and Deck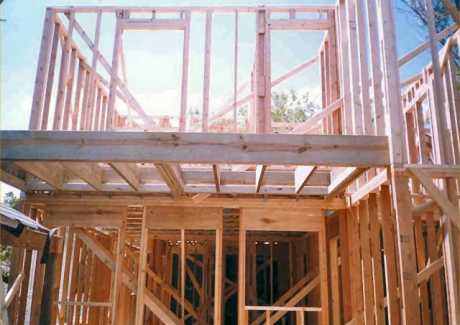 This shows the beams and joists of the back upstairs deck. There will bedoor and window upstairs anddoor and two windows downstairs. The master bedroom exits downstairs. Another bedroom exits to upstairs deck

---
Back DeckTop View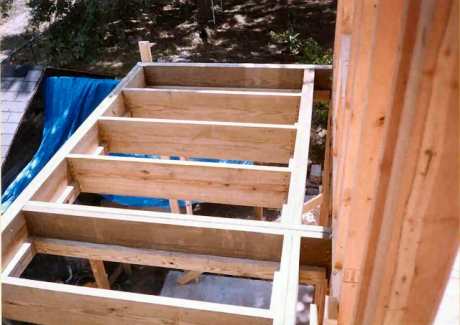 This deck will have the roof extend over it. The gap at the wall allows the siding to go up past the deck. This helps prevent water getting inThe planks will cover the gap later

---
Front View from Street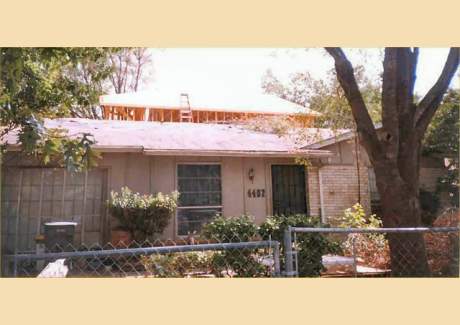 Pre-existing home is in front. This remodel left little to see from the street. But the view in the backyard is better than many homes front side.

---
View From Upstairs Toward Front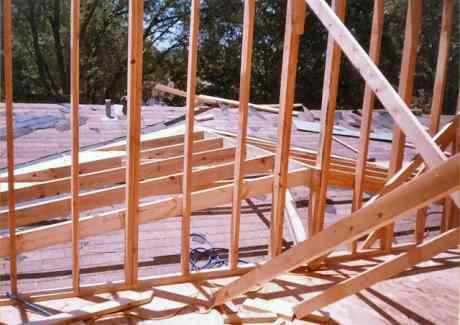 The existing roof slopes straight down into the vertical walls of the addition. The new section of roof had to be added to divert the water to the sides of the house.

---
Diverter RoofAnother View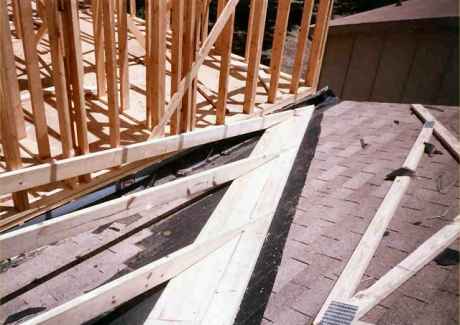 Water will fall off to the right side. The section of old roof under the new one now gets covered over and forgotten.

---
Diverter RoofSide View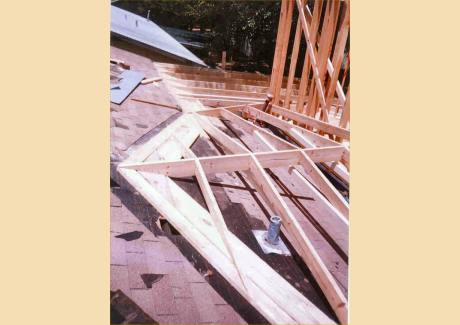 The vents will need to be moved up to the new roof

---
Diverter Roof Joins Patio Roof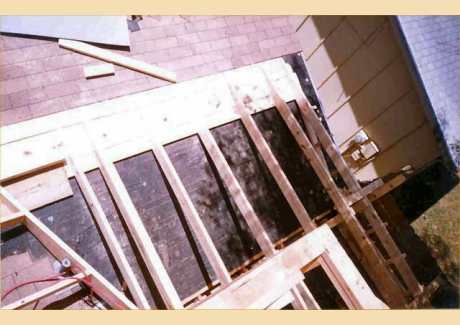 Things are more complicated on this side. The diverter roof is to the left. This side joins with the new back patio roof on the right going down. The water will go around the corner here and continue down to the back. This view is from on top of the second story wall at the corner looking down

---
Diverter RoofAnother View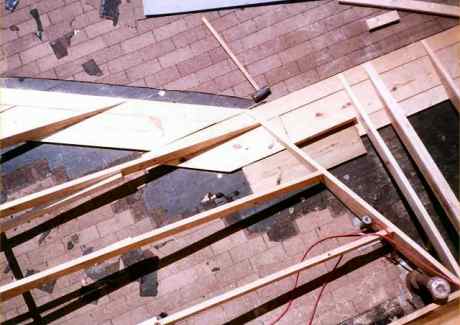 Top view leaning out of second floor

---
Patio Roof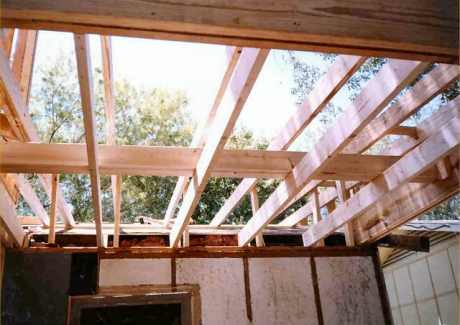 Looking up at bottom of patio roof. The diverter roof is up around to the left.

---
Back Patio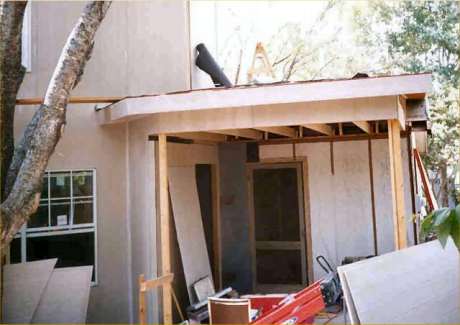 Back patio later on

---
Main Roof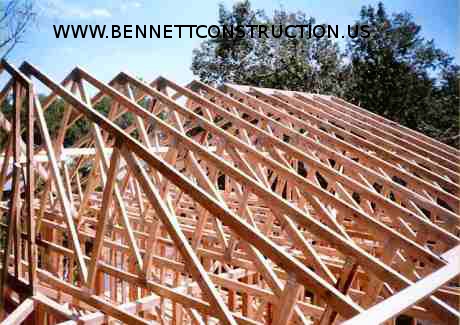 When we had to decide whether to buildcut roof (individual rafters, joists,. purlin, etc. cut and nailed one by one)Or to usetruss roof (constructed in pre-assembled units.). We discovered that the truss system worked really well with the 45 degree wall. This lowered costs and really sped things up

---
Siding Installed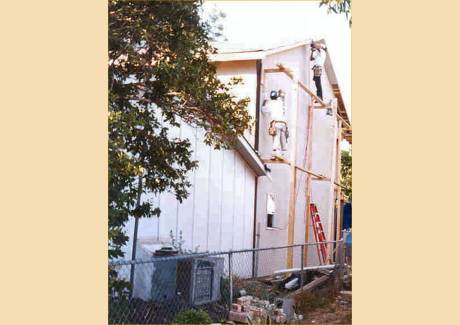 Siding, fascia and soffit being installed on side of house. Existing house is to the left.

---
Siding Being Installed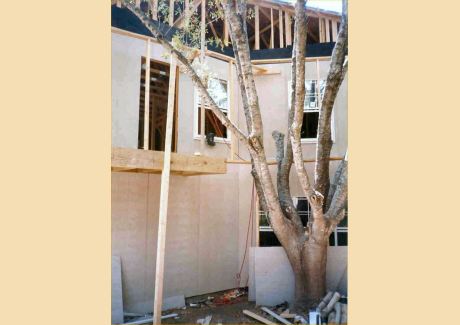 Siding InstalledAnother View

---
Rear Deck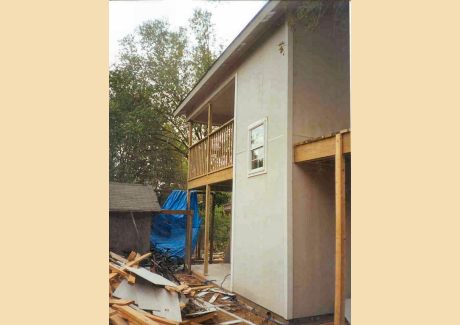 Rear deck finished, side deck almost done

---
Wide View
---
Another Wide View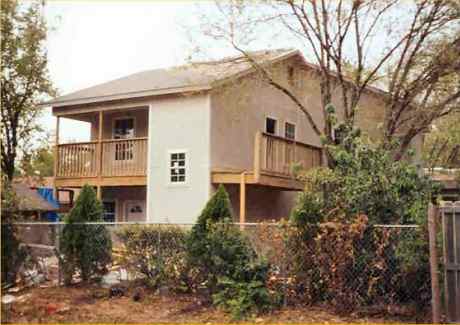 ---
Finished Deck and Siding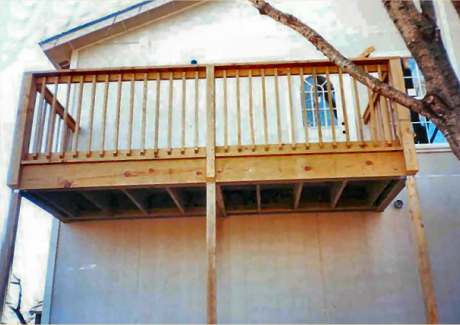 Side deck finished. Siding Installed

---
Finished Deck and SidingAnother View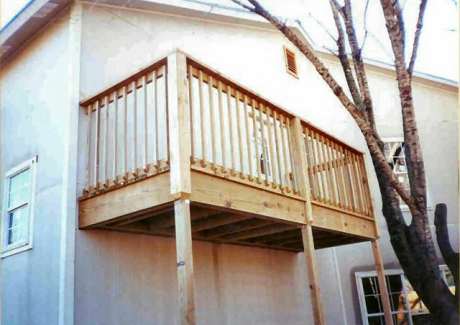 Side deck finished. Siding Installed

---
Side Deck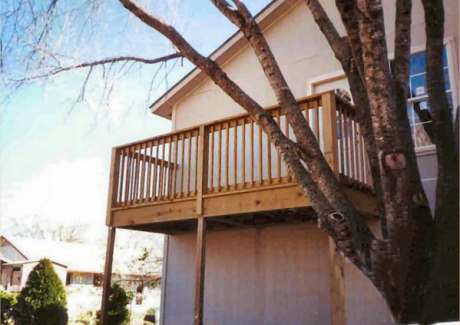 ---
Both Decks Finished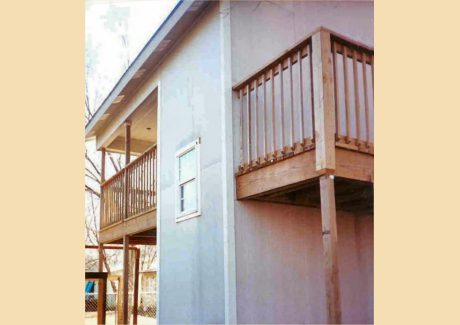 ---
Finished and Painted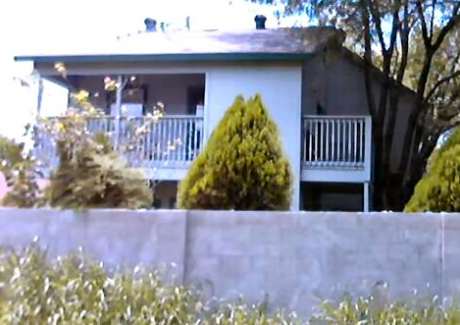 ---
Finished and PaintedAnother View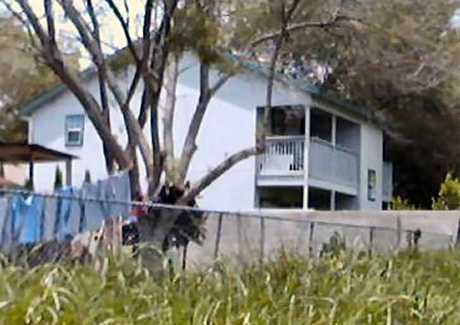 ---